Just because the Blended Rhythms workshops at the schools are on spring vacation for two weeks doesn't mean that musical activity for the kids is on hold. Herman "Cupid" Francis is running the Small Beginnings Music Camp from April 1-13 so the children have an opportunity to learn various instruments. They each choose two instruments from a vast list, including violin, keyboard, guitar, banjo, mandolin, trumpet, trombone, saxophone, and masquerade drums, and spend 3 hours each day practicing them with a variety of instructors at the Old Primary School in Salem.
This afternoon the camp invited guest violinst/fiddler Mike Evans for a workshop/demonstration. Mr. Mike has been on island for the past couple weeks and has played for our adult Irish dance classes a couple of times. Today the beginner students learned how to play rhythms on the violin, starting with the rhythm of: "Mont-serr-at is a beau-ti-ful is-land." Most of the students haven't yet been introduced to finger placement, so they while they weren't able to play the melody of "Mary Had A Little Lamb," they did echo the rhythm successfully.
Someone requested to hear "Greensleeves," and the waltz inspired the masquerade drumming instructor, sitting in the back, to quietly tap out the rhythm with his sticks. Soon the whole room was clapping out the rhythm, with half the room clapping the "one" downbeat, and the other half clapping the "two three" upbeats.
The last song Mr. Mike played was an Irish tune, which incited a few celebratory "yeeeee-haws!" and the Irish dancers in the group started squirming in their seats. They were a bit shy at first, but with some encouragement from Mr. Francis, they finally got up and demonstrated the dance choreography they've been practicing while Mike played for them. It was quite a collaboration!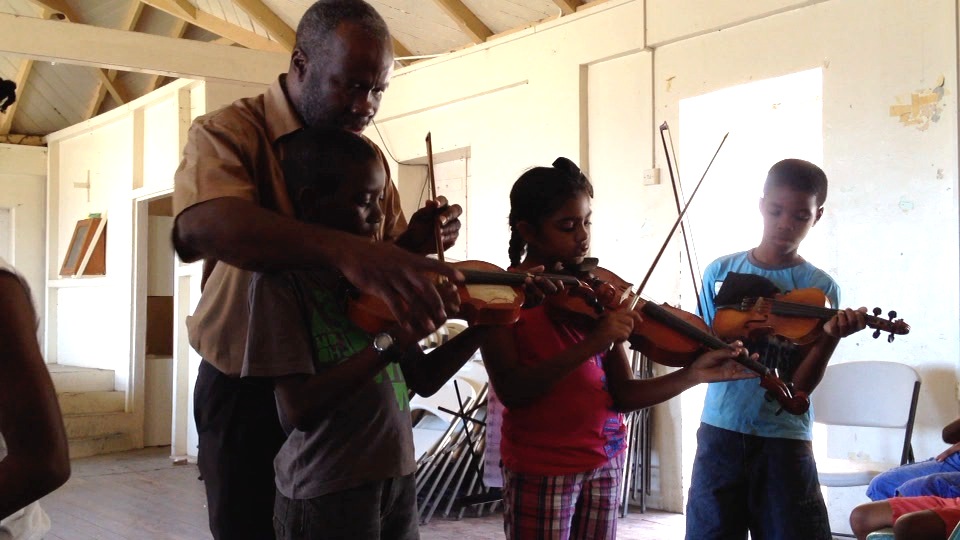 Mr. Francis helps a violin student with proper technique and placement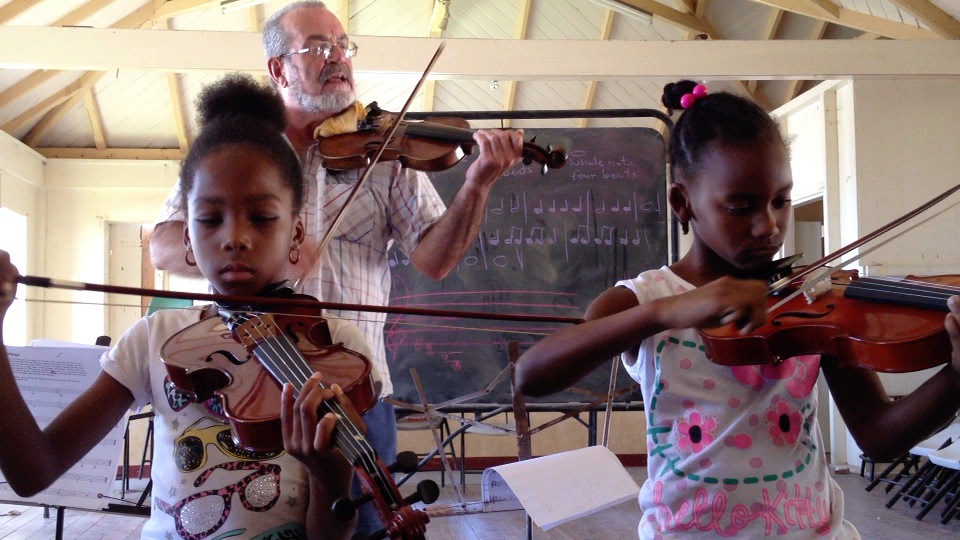 Mr. Mike leads the violin students in echoing the "poetic" rhythm of
"Mont-serr-at is a beau-ti-ful is-land, Mont-serr-at, the Em-er-ald Isle"