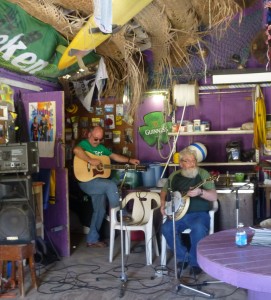 Martin Healy and his band members from Dublin, Clare, and other parts of Ireland have been performing at Montserrat's St. Patrick's Festival for the past 7 years.The band sometimes receives a small grant from the Irish government to help pay for the trip, and the trip has become an important annual tradition for the band.
The band brings traditional tunes and songs from Dublin such as "Wild Rover," "When Irish Eyes are Smiling," and "If You're Irish," as well as hornpipes, polkas, and reels. Last year they debuted a new song called "Montserrat," a beautiful lament about "this green island" that calls to us and that we'll come "back to someday." This is a sentiment that rings true for anyone leaving a beautiful land, whether as a visitor with happy memories or as an emigrant nostalgic for home!
On St. Patrick's Day in 2013, the Martin Healy Band brought down the house (er, the seaside pub called "The Green Monkey")!
If video does not play, please click here: GreenMonkeyTunes.mov