The African Music Festival was a huge success! The evening began with performances by local soca artists such as Nyne, Kelvin "Tabu" Duberry, and others, and the last small act before the featured performers went on stage was the one and only…Blended Rhythms drummers!
We had to manage the performance without Dominique leading us, so I mustered up my courage (and spent the day obsessively listening to recordings of our classes) and led the group for three of our favorite rhythms from the past couple of months: sinte, assiko, and kassa. Members of Jalikunda were kind enough to back us, as a favor to their friend and bandmate Dominique, and their djembe and dun dun support made us sound pretty awesome 🙂 Thank you Mamadou, Landing, and Sidiki!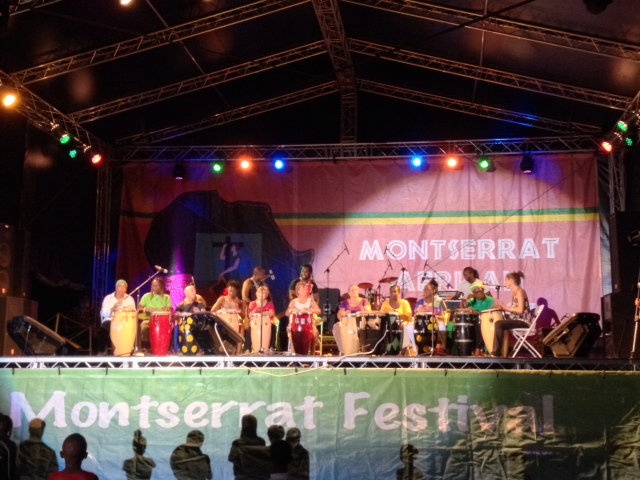 You can see that we had a good turnout of adult drummers, and I thought we did a great job. And everyone retained their composure when the electricity in the park went out completely for about 3 minutes in the middle of our first rhythm (how professional!). We just kept going without lights or amplification, which I think actually gave us some more confidence (haha).
Jalikunda was on stage next, and…wow! I have to apologize for having very few photos or videos of their performance, but I was too busy dancing my a$$ off! We crowded towards the front of the stage and went wild. The band played a combination of sweet almost-lullaby-like songs with high energy djembe numbers: Mamadou Cissokho played some moving songs on his kora (African harp) and sang with Marietou Kouyate, and Sidiki Dembelé wowed the audience with his impossibly fast djembe hands. Oumar Sagna played djembe and calabash and danced, Landing Mané played the dun duns and danced, and Ernest played djembe and also danced.
Marietou was new to the band at this year's Montserrat African Music Festival, and she really added a whole new (female) element to the performance. Ernest was also a newcomer this year, and his solo dance moves from Ghana were clearly distinct from the Senegalese style we saw in the other dancers. I may have seen a bit of azonto in there?
Oliver "Tuku" Mtukudzi and the Black Spirits were up next with a very different vibe—their music from Zimbabwe is much calmer and it is absolutely mesmerizing. I wasn't jumping up and down the way I was with Jalikunda, but I found myself swaying back and forth, getting lost in the music. Not even the rain could keep me away from the stage (whereas some fled temporarily for cover)!
At the end, both bands joined up on stage for a "West Africa meets Southern Africa" collaboration. The joint performance was entirely unrehearsed, but you would hardly know it. They blended together seamlessly and the dancing, once it was released from the confines of "choreography," was out of this world! They even brought out Tabu and their stage manager for an impromptu dance on stage, introducing Montserrat and the UK to the mix.
The atmosphere at the festival was wonderful. There were more people than I remember from last year and the program surprisingly stayed on schedule, without any delays. Congratulations to Kato Kimbugwe, Jonette Silcott, and the rest of the African Music Festival committee on a successful 2nd annual festival! I can't wait for next year.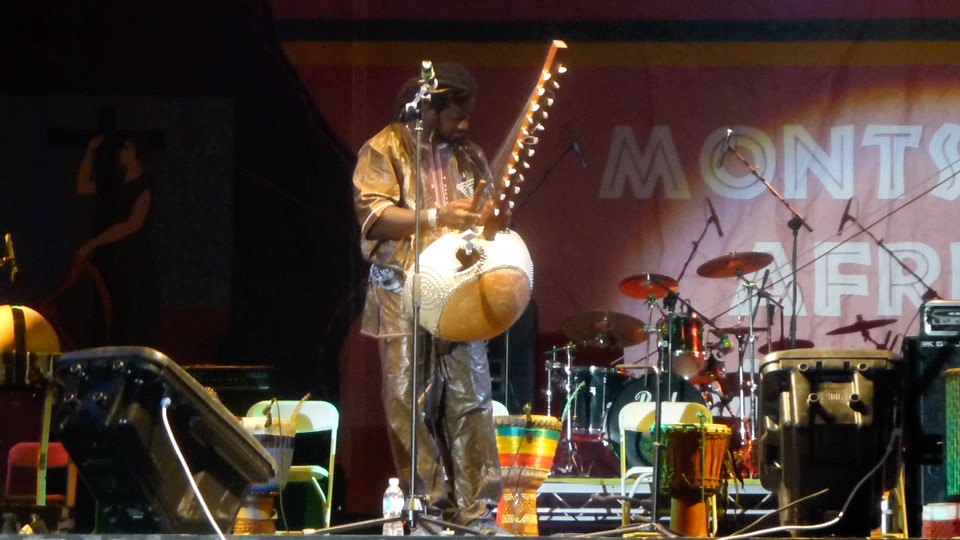 Mamadou Cissokho on kora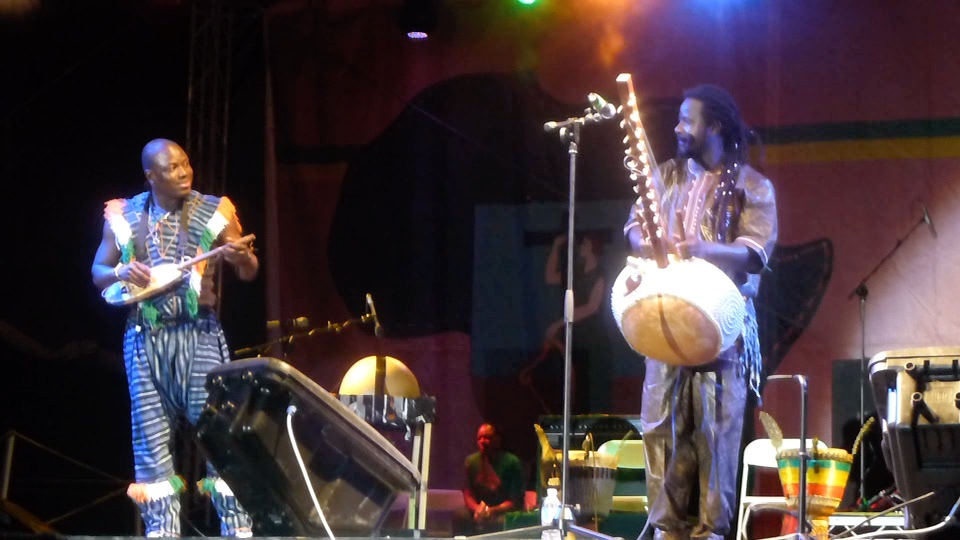 Sidiki Dembelé on ngoni and Mamadou on kora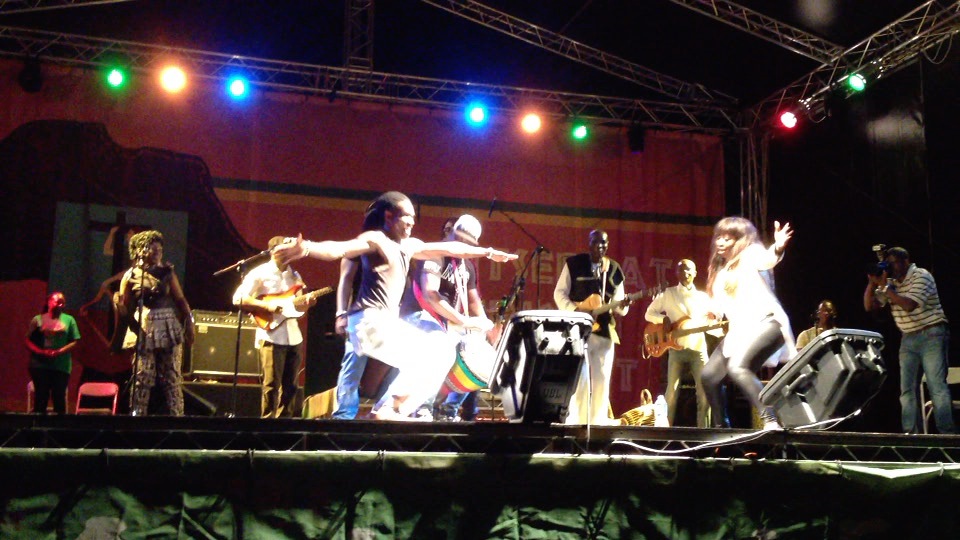 Ernest and Marietou Kouyate dance at the end of the night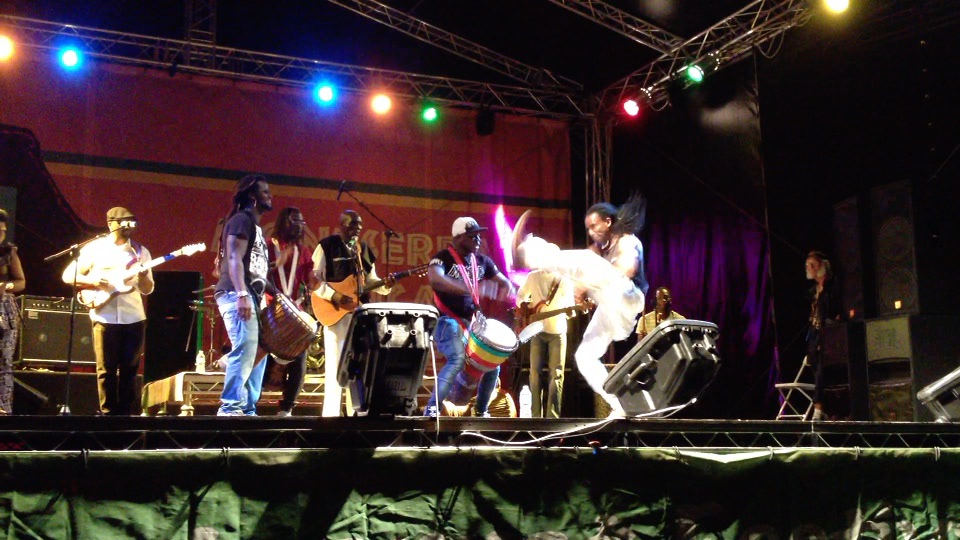 Ernest throws some high kicks during a solo dance performance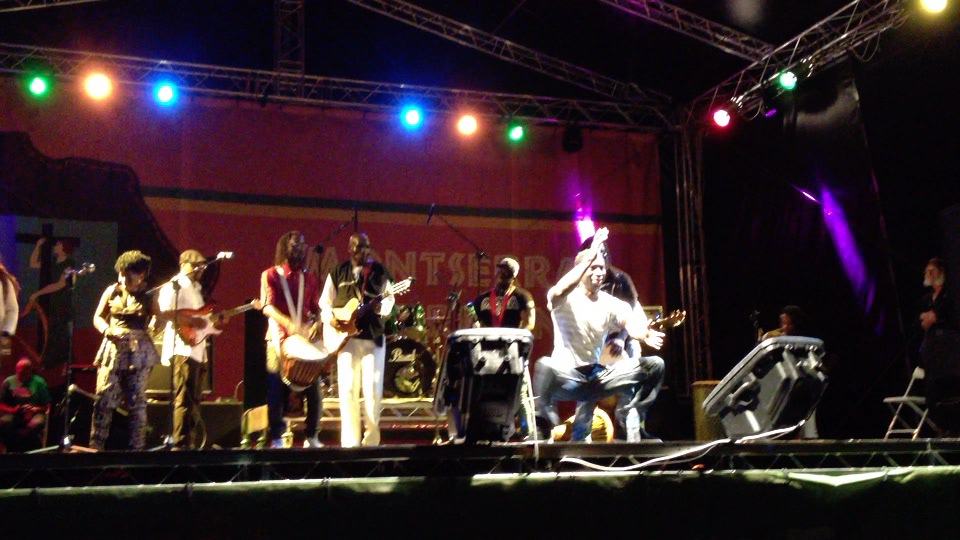 Landing squats down for an impossibly cool "knee" dance (he makes it look easy…it is not)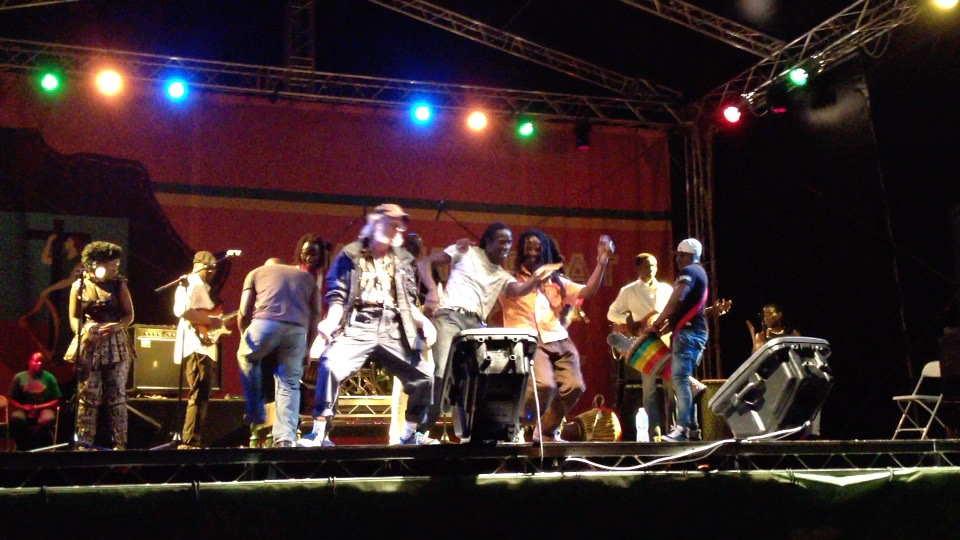 Dance party on stage