We are so excited, thrilled, and honored to accept a $1,000 grant as the 55th grantee from Awesome Without Borders (a collaboration between the Harnisch Foundation and the Awesome Foundation) to purchase djembes for the workshops, which we will donate to the youth community of Montserrat after the St. Patrick's Festival in March. The drums are currently in transit!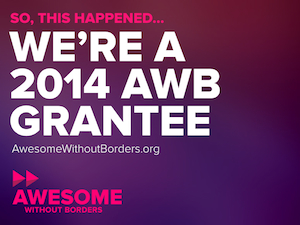 We are happy to be able to share our love of rhythm with Montserrat, and it is Awesome that we will now be able to leave behind something lasting so that young musicians here can continue to develop their drumming skills even after the workshops finish. And maybe we'll be able to continue the tradition next year? Our drumming fingers and tapping toes are crossed.
Thank you, Awesome Without Borders!
(Also check out the announcement for our grant with our application's project description on the Awesome Foundation website.)