This was it, the day we've all been waiting for! St. Patrick's Day in Montserrat certainly did not disappoint. It was a whirlwind of activities, starting with the parade from the Montserrat Secondary School down the main road to "Heritage Village" in Salem.
The paraders gathered at MSS starting from around 1pm, and troupes included the Emerald Shamioles Masquerade Troupe (in their colorful ribboned costumes), Sankofa Garden (with their truck full of plants), Coral Cay (the local conservation research team), the Blended Rhythms Irish dancers, and Jalikunda (West African dance/drumming troupe). There were donkey rides for kids (and some adults!) and everyone was dressed in the kitschiest green "paddywhackery" you can imagine. If it weren't for the hot sun, you might have thought you were in Dublin itself. Maybe.
Graham Clifford from the Irish Independent was there, reporting back home to Ireland about St. Patrick's Day festivities on Montserrat. He spoke into the camera while paraders sang "Proud to be Montserratian" in the background, waving shamrocks and wooden machetes.
The groups lined up and started walking at around 2pm. I have to describe how incredible this experience was for me. The Irish dancers were between the masquerade dancers at the front and the West African drummers at the back, and so we were literally dancing to blended rhythms. We didn't know which rhythm to follow! Both sounds kept fading in and out, and they both worked for the dancing, but the dancing had to change significantly depending on which rhythm we paid attention to.
The girls did a great job dancing, and we kept it simple: just some 3s and "sliding doors," and we heard a few spectators exclaim, "Irish dancers!!!" The sun was bright and hot, and the road was long, but we powered through anyway. The excitement was infectious.
When we arrived at Heritage Village, we were greeted by Basil Chambers, who announced that he had no program for the day's performances, and he would just be calling groups on stage as he spotted them in the crowd. The Blended Rhythms Irish dancers went up fairly early, and since we didn't have time to arrange any music, we did our 3s and swings to soca music! Like the masquerade and djembe rhythms, the soca rhythm works just fine for Irish dancing, if a little off-putting at first.
The adult dancers also did a reprisal of their Siege of Carrick céili dance from Wednesday evening's Shamrock Cabaret, and Mike Evans, visiting from the UK, played an Irish jig for us on his fiddle. We had a great time!
From there, the day was chock full of different forms of music, including local reggae, the Rude Boys String Band, a political rap, and soca. Calypso/soca King Wallace was in attendance, and I was disappointed that he didn't give a performance of his famous "Dracula" hit from Christmas.
Jalikunda also performed again, and dancer Marietou Kouyate gathered some of the Blended Rhythms dancers together for an impromptu African dance performance! We threw on some skirts and jumped up on stage to shake it. We each did a solo as well, and you could see traces of each dancer's background, from Haitian dance to masquerade dance to samba. It's always the unexpected things that are the most fun!
Mike Evans also joined Jalikunda for some fun collaborations: he and Sidiki Dembelé paired up for an interesting ngoni/fiddle duet, and Landing Mané and I traded West African and Irish dance steps on stage. Marietou and Mamadou Cissokho also sang along with Sidiki and Mike for an improvised blended performance. Finally, the sound of the fiddle and djembe together lured me up on stage for some sean nós dancing, and I was joined by some others for some energetic steps on stage. It was impossible to resist!
The Volpanics and Genesis steel pan orchestras also played, and added a lot to the ambience of the afternoon. There were food stalls around the perimeter of Heritage Village, selling rotis, wraps, rice and peas, chicken, fried fish, duckna, goat water, and other treats. There was plentiful Guinness and Carib beer too, of course.
The Montserrat St. Patrick's Day Festival was deemed a huge success, and it was a great finish for the Blended Rhythms program! We will take a week to recover and will start up a more limited schedule of Irish dance workshops next week.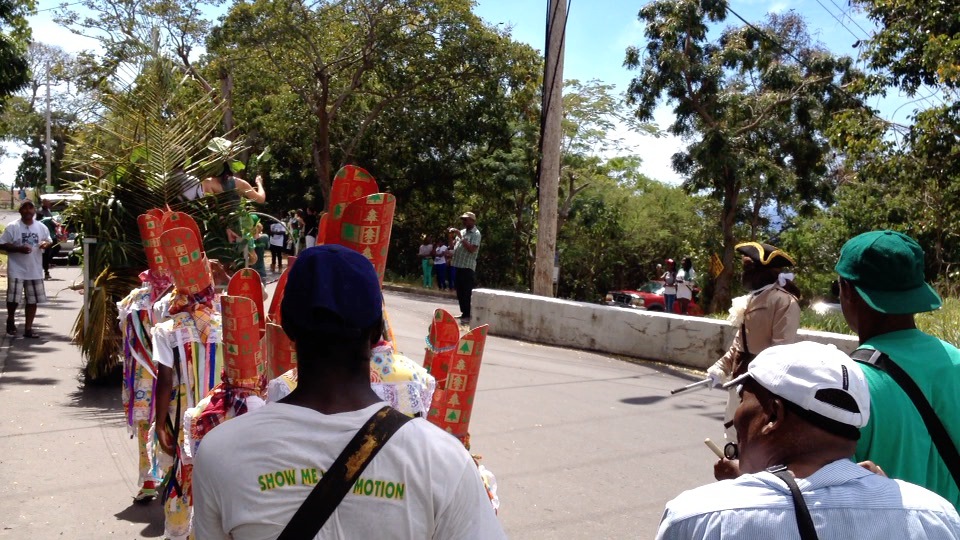 Masquerade dancers line up for the parade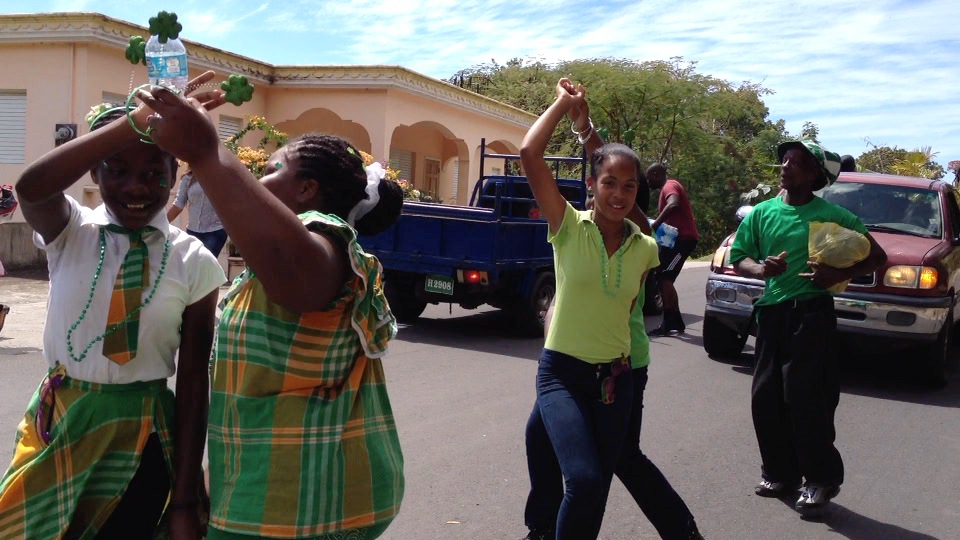 Blended Rhythms Irish dancers dance in the parade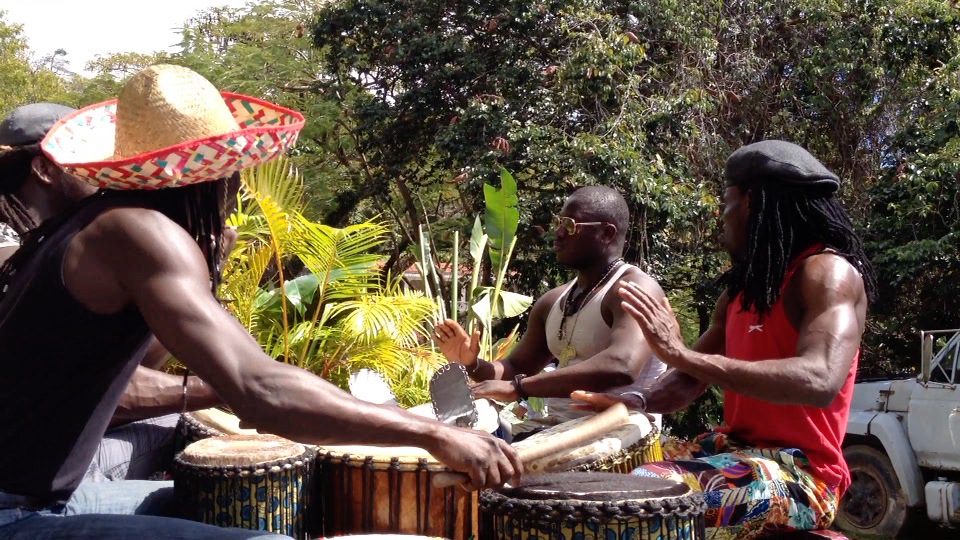 Jalikunda add some West African spice to the St. Patrick's Day parade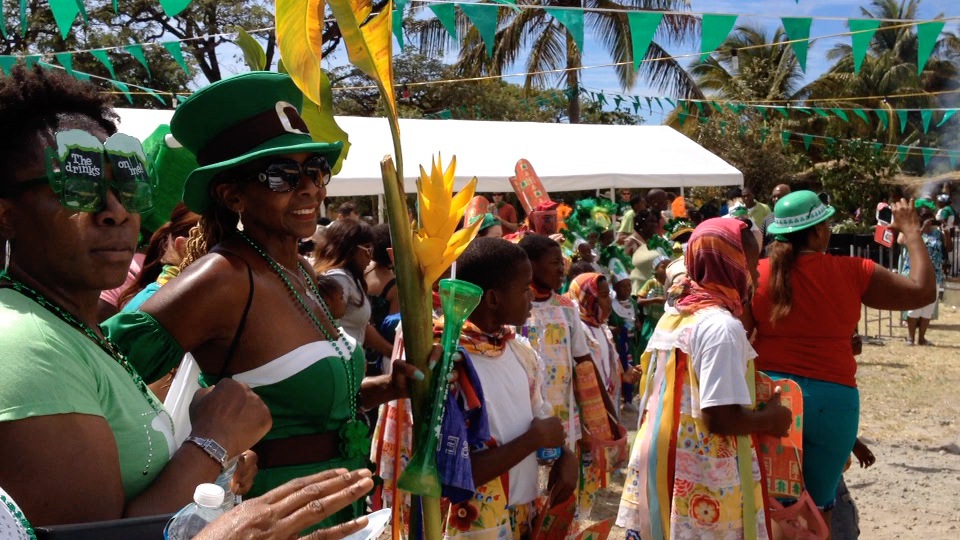 Paraders arrive at Heritage Village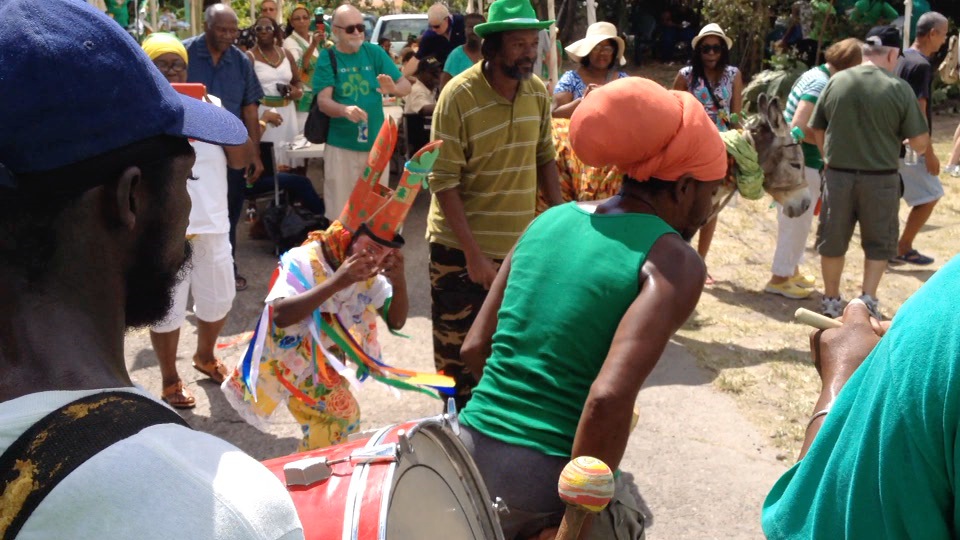 Masquerade dancers whirl up a dust storm in Heritage Village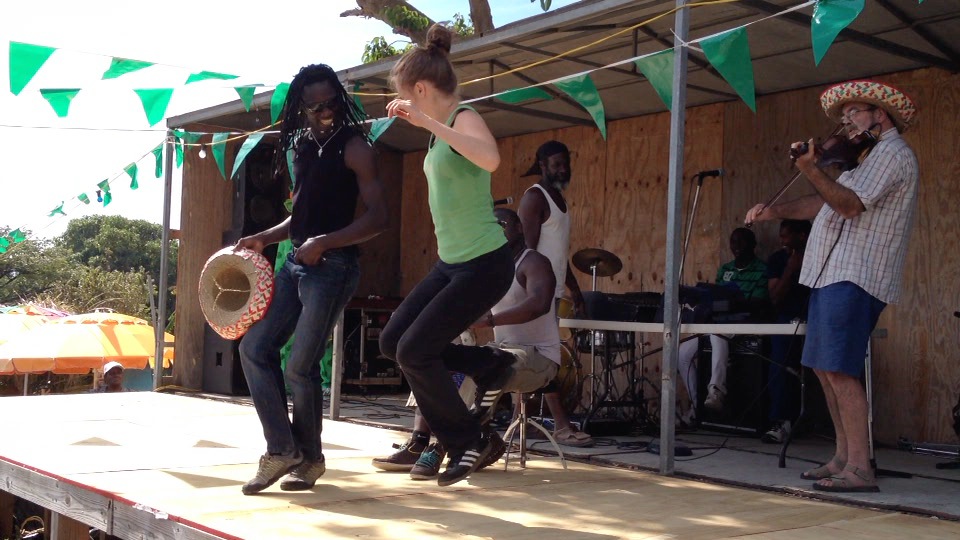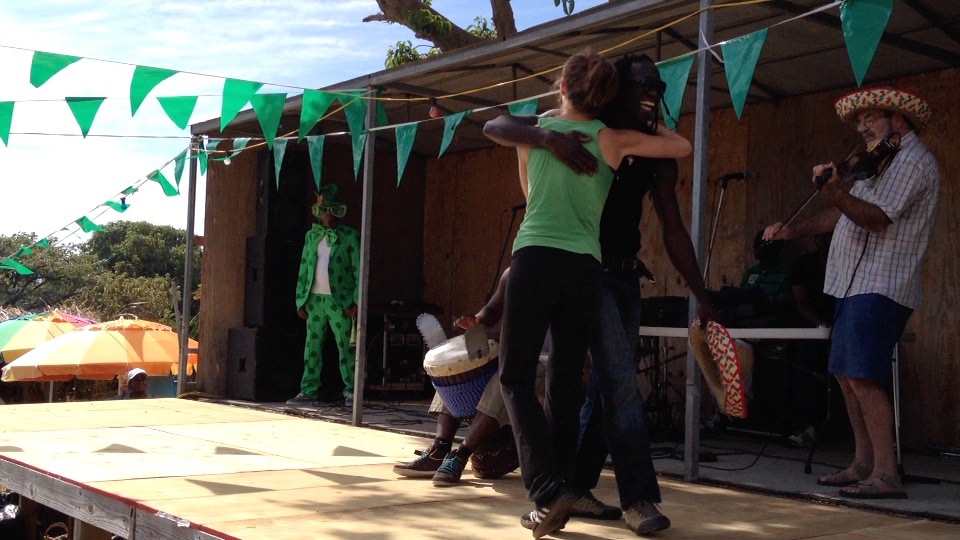 Landing and Kate trade West African and Irish dance steps on stage with djembe player Sidiki and fiddler Mike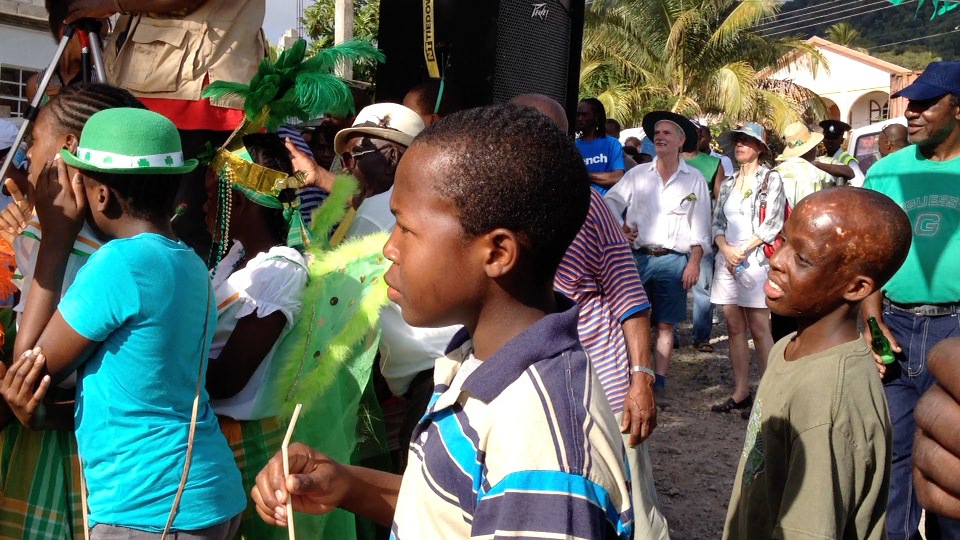 Blended Rhythms drumming students enjoy Jalikunda's rousing performance (and see what they are working towards!)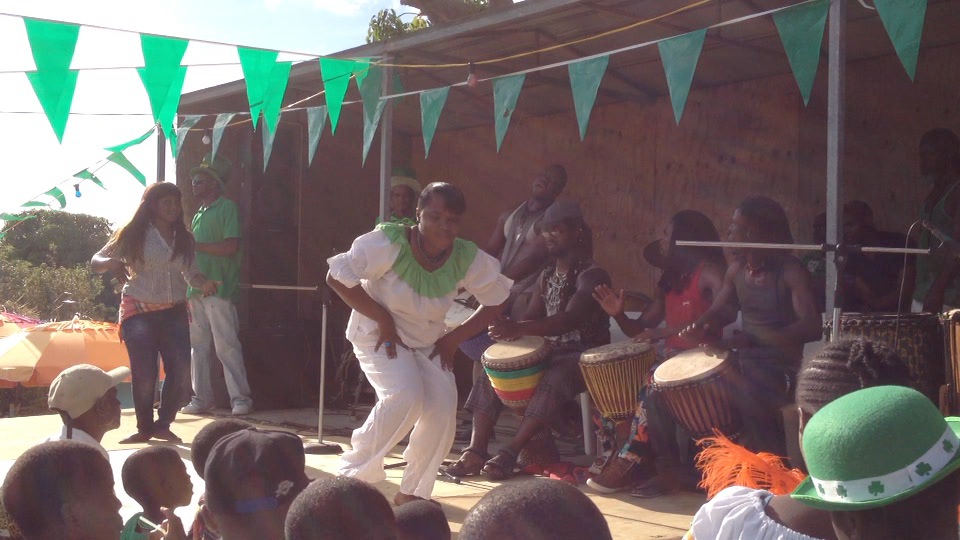 Some Haitian dancing adds a new element to Jalikunda's West African music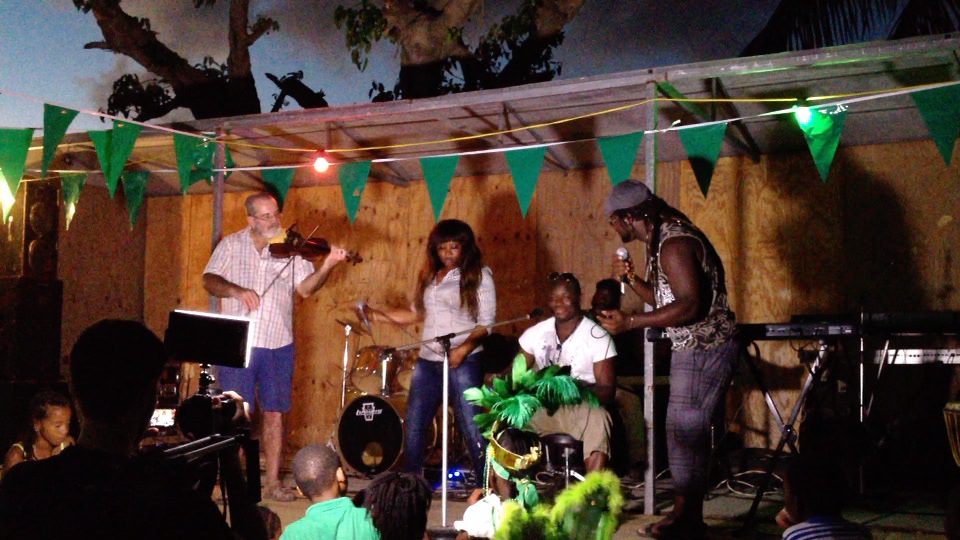 Jalikunda and fiddler Mike bring together Irish and West African rhythms on stage